Britfield & The Lost Crown World Book Tour
starting in the United States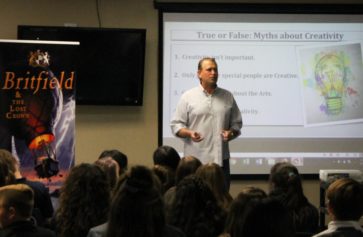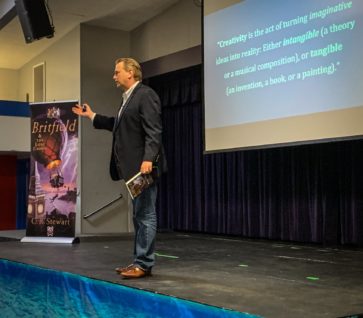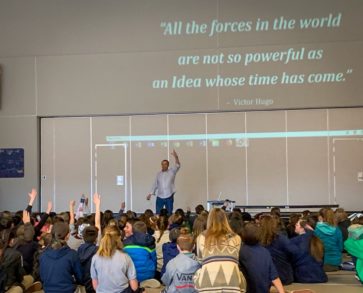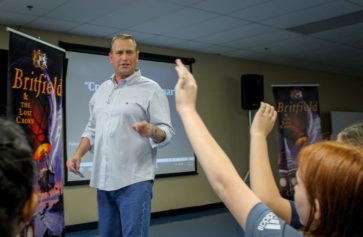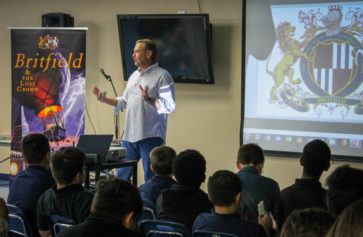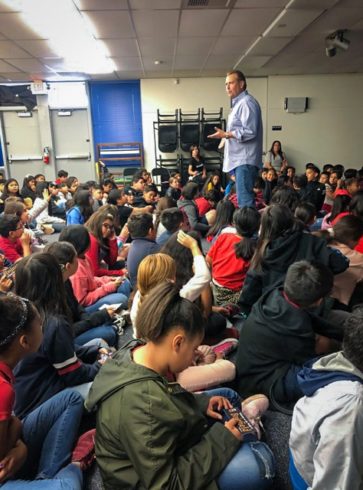 Lake Charles, Louisiana – Book Tour entry #5
Posted February 20, 2020


So thankful for the warm welcome I have received in Beautiful Louisiana!
Here is a picture of an awesome Britfield hot air balloon made by an amazing group of creative students at a school in Lake Charles! Love it!
Now, there are your little known factoids about Lake Charles & Louisiana:
Lake Charles started as a sawmill town. Several homes within the Charpentier Historic District and the entire downtown was built with this lumber. A fire destroyed nearly everything in the early 1900s. About 30 blocks of the downtown area including the courthouse, city hall and the Catholic Church were all destroyed. It's known as The Great Fire of 1910.
The city of Lake Charles gets its name from a tragically romantic story involving some of the first settlers, Charles Sallier and his wife Catherine LeBleu, as well as the notorious pirate Jean Lafitte!
Louisiana is the only state that does not have counties. Its political subdivisions are called parishes.
Until next time…..  C.R.
GOODREADS GIVEAWAY ENDS 2/17! HURRY!
Posted February 12, 2020
Only a couple more days to register to win a signed hardbound copy of Britfield!
GOOD LUCK!
https://www.goodreads.com/giveaway/show/302268-britfield-and-the-lost-crown
Dallas, TX Book Tour Entry #4
Posted January 29, 2020

Thank you OCS Eagles for inviting me and making me feel so welcome!
"I loved watching how the kids responded to you! They are so excited about having the books in their hands. Your presentation is off the charts excellent and we were all wanting more! Wish time allotted for us to have you for at least another hour."
– Ovilla Christian School, Red Oak, TX
And now for some little known factoids about Dallas, TX:
Before Red Oak, a suburb of Dallas, was given its name in 1849, it was known as Possum Trot due to the possum population that lived there.
At 17,207 acres (27 square miles), the Dallas/Fort Worth International Airport is larger than all of Manhattan (22.82 square miles).
Before becoming a gambler and gunslinger, Wyatt Earp's sidekick John Henry Holliday was a dentist in Dallas. That's why they call him Doc, get it?
What an AMAZING welcome from Central Middle School in OK City!
Posted January 24, 2020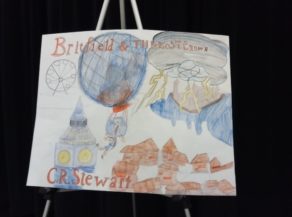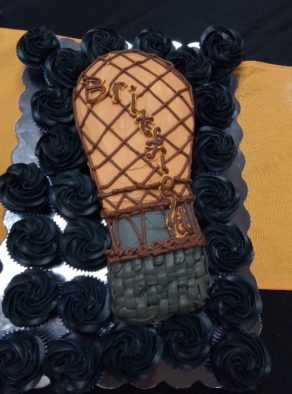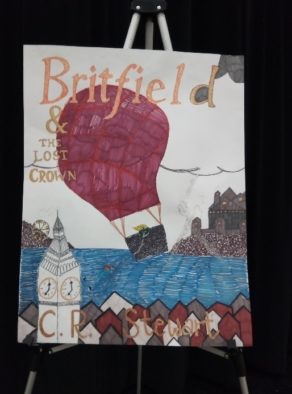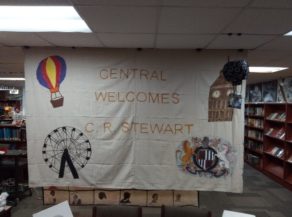 Thank you Central Middle School!
WOW! Is all that I can say for the warm and CREATIVE welcome that I received from the staff and students at Central MS in OK City, OK! And, yes, that is a "Britfield" cake in the pictures! I had a blast sharing about how important CREATIVITY is and am thrilled to see it being encouraged at this excellent school! WAY TO GO CMS!!
And now for a few little known Oklahoma City FACTOIDS:
Oklahoma City averages more than 300 days of sunshine per year.
At around 200, Oklahoma has more man-made lakes than any other state… BUT, whaling is illegal in the state of Oklahoma, so please do not try to catch a whale in any of those manmade lakes!
The first shopping cart was invented and used in Oklahoma City at Standard Food Markets in 1937.
Santa Fe, NM! Book Tour entry #2
Posted January 21, 2020

Thank you Students & Teachers of Beautiful Santa Fe, NM! 
I have decided to include 3 little known factoids about each city that the 2020 Britfield Book Tour takes me! I absolutely love traveling and meeting new people! Everyone (and every city) has a story tell! As much as it is my desire to share my passion for creativity & storytelling on the tour, I believe that I will be the one to benefit from my encounters… to be forever changed by YOUR STORIES!
In 1607, roughly 13 years BEFORE the pilgrims landed on Plymouth Rock, Santa Fe was founded, making it the second oldest town in current day America. It was originally founded as La Villa Real de la Santa Fe de San Francisco de Asis, but its name was changed in 1610.
According to New Mexican law, "idiots" are not allowed to vote. They don't really give a clear definition of who gets included in that definition.
Dancing while wearing your sombrero is illegal in New Mexico.
Talk to you all next from OK City!   C.R.
GoodReads Book Giveaway Contest 1/18 – 2/17!!!
Posted January 17, 2020
I have some exciting news for all my
BRITFIELD FRIENDS!
I am giving away 25 SIGNED HARDBOUND BOOKS on GOODREADS!
January 18th – February 17th
If you are already on GoodReads, just go to "Browse/Giveaways" & register to win when you see the Britfield cover! if not, it is super easy & free to become a Goodreads member and who doesn't want to be a part of gigantic community of readers?!
https://www.goodreads.com/giveaway/show/302268-britfield-and-the-lost-crown
GOOD LUCK!
Kicking off the 2020 BOOK TOUR!
Posted January 13, 2020
Hello Friends of Britfield! 
I am so excited about this AMAZING start to the Britfield Book Tour! For the next 5 months I will be traveling to 15 states, visiting 150 schools and engaging with at least 20,000 students, as well as dropping in at our favorite independent books stores & public libraries along the way! My goal is share my passion for creativity & storytelling!
If you are interested to see where I am going next, please check in regularly or if you would like to see if I can stop at your school, book shop or library just contact media@Britfield.com.
This is going to be a GREAT year!
Posted December 26, 2019
HURRY!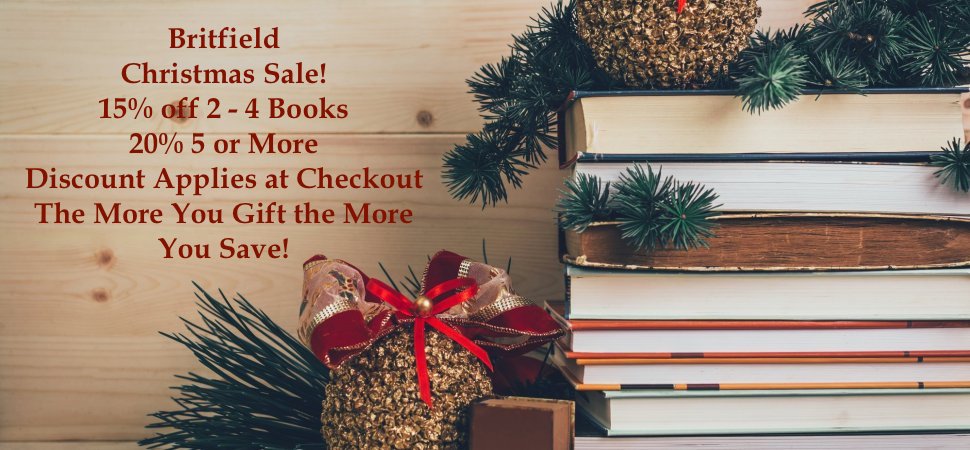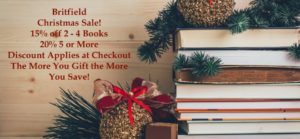 SALE ENDS JANUARY 1st!!
Multiple Award-Winning
Britfield and the Lost Crown
Posted December 6, 2019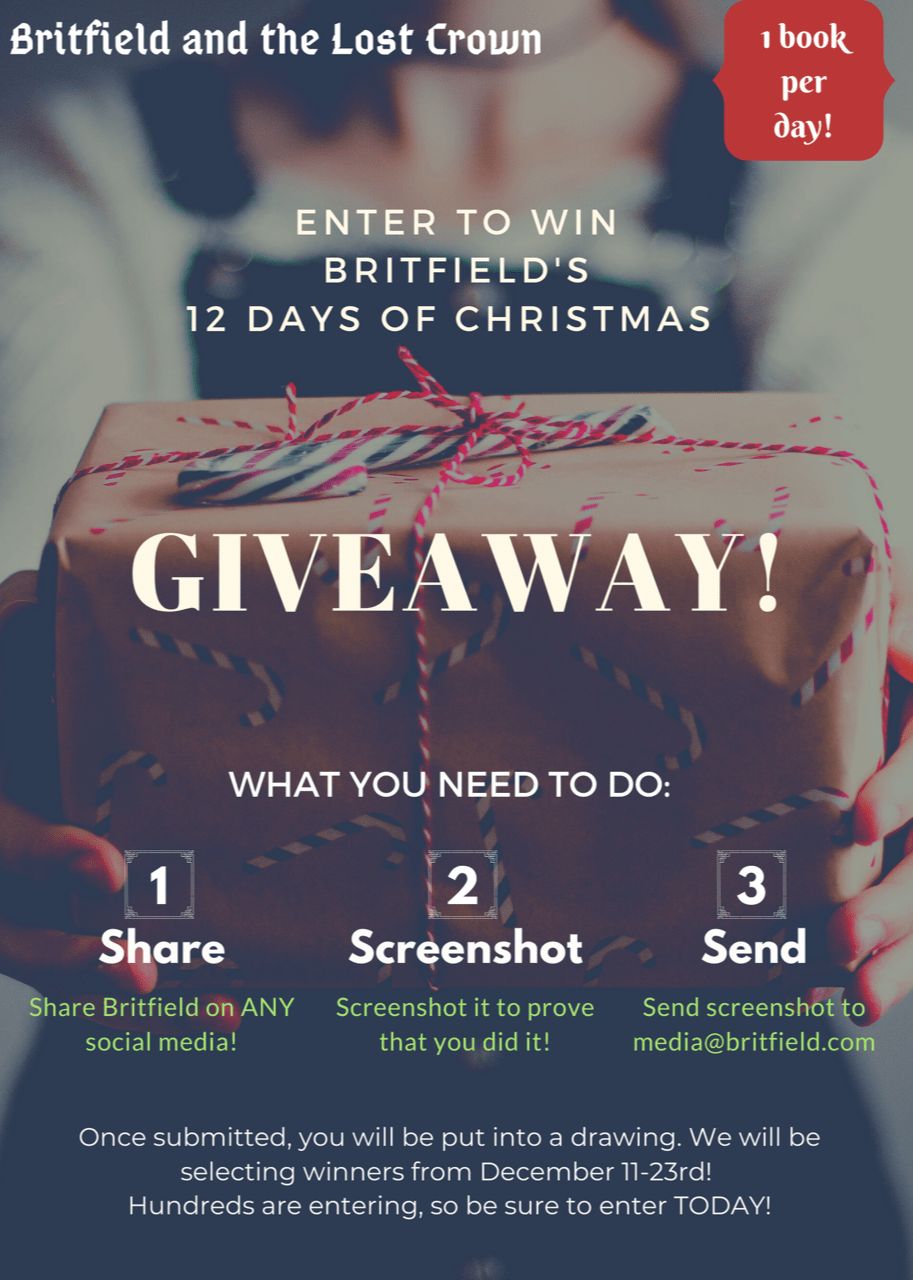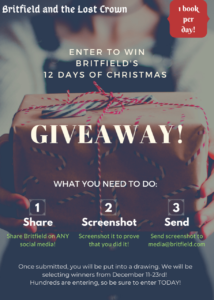 Britfield's 12 Days of Christmas!
December 11th – 23rd
EASY & SO MUCH FUN TO WIN A BOOK!
What are you waiting for?
POST NOW!
Britfield Holiday SALE!!!!
Posted November 18, 2019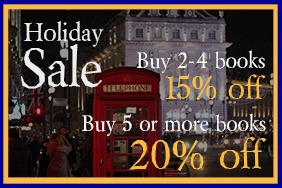 The MORE you GIVE the MORE you SAVE!!!