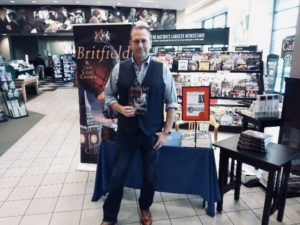 THANK YOU to the Collierville, TN Barnes & Noble for hosting a Britfield and the Lost Crown book signing!
If you are in the area, make sure to drop by and get your own copy!
Super-fun facts about Tennessee that I bet that you didn't know:
Next time you're heading to your favorite fishing hole, leave the lasso at home. It's illegal to catch a fish by this means in the Volunteer State.

A lot of places claim they invented Mountain Dew, but according to the company the neon syrupy goodness was first created in Knoxville in the '30s as a new drink to mix with whiskey.

Tennessee is bordered by more states than any other state, except for Missouri, with which it ties at eight. The states are Kentucky, Virginia, North Carolina, Georgia, Alabama, Mississippi, Arkansas, and Missouri.
Thanks for reading!  C. R.