"Finally, an inspiring book that every child can read—perfect for students."
Is your school interested in being a part of the next bestselling series, Britfield & the Lost Crown? Devonfield Publishing is offering teachers the Britfield Classroom Creativity Experience: A unique opportunity to share with students a signed copy of an exciting adventure novel that is receiving amazing feedback and glowing reviews from students (9.03 out of 10).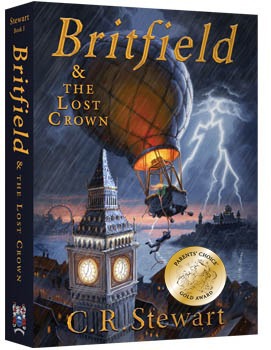 Britfield & the Lost Crown is a fast-paced middle school/young adult adventure novel that transports the reader from the smoldering crags of Yorkshire, through the heart of England, and finally to the magnificent shores of Dover. Creating an interactive world of mystery and adventure, culture and education, Britfield is about friendship, family, loyalty, and courage. The first in a five-book series,Britfield presents accurate geography, history, architecture, and culture throughout the exciting story.
With a 20-book minimum, you receive:
The Britfield Classroom Creativity Experience
Free Britfield book for the teacher, and Chapters 1-2 for all students
Free bookmarks and stickers for every student
Free: One signed poster and one t-shirt to raffle off to students
Free: Our exciting Creativity Kit for teachers
Free: Our Britfield Study Guide ($29.99 retail) to teach Britfield in class
A 30-45 minute Skype or Zoom call with the author
Signed hardcover books at $20 and softcover at $15 (discounted)
Designed to be taught as an in-depth literary work, our Britfield Study Guide (83 pages) is perfect for schools and is based on national standards. This is a wonderful way for you and your students to experience the Britfield Movement!
If you are interested, contact Connie Hubbard at connie@britfield.com
Britfield is more than a book; it's a movement!